Welcome to the Demo of our Transaction Progress App!
Our Progress website and app shows customized boards with checklists personalized for your real estate transaction. This app keeps our clients and realtors informed about every step of the transaction process. We will update your board every time something on the checklist has been completed, allowing you to see in real time the progress we're making on your transaction. We hope you'll agree with us that this is a pretty cool way for you to be totally informed about what may be the most important financial transaction in your life!
We will send you a link to access your board. When you click the link it will take you to a very fast and easy sign up page. When you open the website or app you will see all of the following cards available in one place–and potentially others as your board will be tailored to your specific transaction. The following is a description of each card on your board- which in turn is a description of each step in your real estate transaction!
The first card you will see on your board is the "Important Dates and Info" card. This card has your property information followed by important dates to remember for your closing, like when attorney review concluded and when your second deposit, home inspection, and mortgage commitment are due.
Next you will see the "Attorney Review" card which has a checklist detailing the happenings of the Attorney Review process and the down payment steps and due date.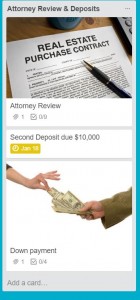 Attorney Review begins once I receive the Contract, discuss it with you and send out our attorney review letter to the other attorney. This letter has to be sent within 3 days of receiving the contract. It is a common misconception that the entire attorney review process has to be concluded within 3 days. There are 2 checklists on this board that you can click on for a detailed list of items to be completed, Attorney Review and Down Payment.
The Attorney Review checklist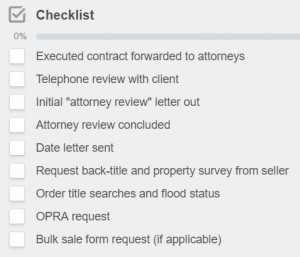 The Down Payment checklist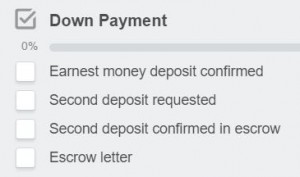 Next you will see the "Inspection" card which has your inspection due date and an Inspection checklist. You can click on the box that says "Inspection" to open the checklist. The checklist has a list of steps to break down exactly what will be happening during the Inspection process.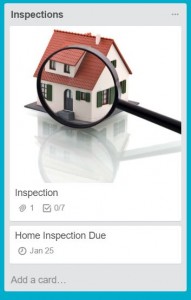 The Inspection Checklist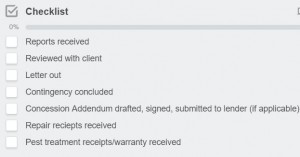 The Title & Financing card is next. You will see Title & Survey and Financing Checklists. I will order the title insurance policy and survey for you. The Financing checklist includes acquiring your pre-approval and mortgage commitment from your lender.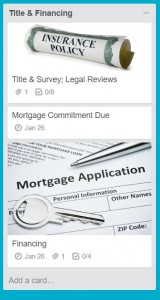 Title & Survey Checklist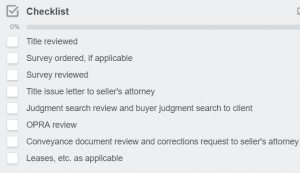 Financing Checklist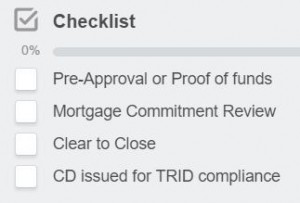 Finally you will see the Closing Preparation card with a checklist all about preparing your file for closing.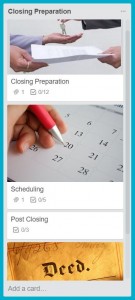 Closing Preparation Checklist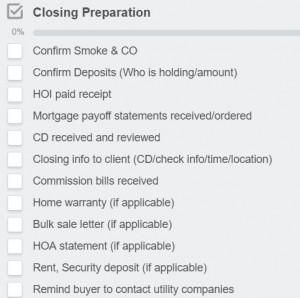 For access to your board, please follow the link we will be sending you. There will be a very fast sign up, then you will be able to view your board. Your board will vary slightly from this demo as it will be tailored to your specific transaction. Please let us know if you have any questions as you sign up, view your board, and throughout the transaction!